Check out Clarity Water Technologies' partner Pete Stempkowski on NBC News 4! Pete was recently interviewed by Sheldon Dutes of NBC 4 New York News Team as a Legionella Remediation Expert in New York City's ongoing story about the Legionnaires' outbreak in the South Bronx. At this time, the outbreak has taken the lives of seven people and has sickened more than 85 residents living in the High Bridge, Morrisania, Hunts Point and Mott Haven sections of the South Bronx.
See the full interview here:
Legionella is the bacterium that causes Legionnaires' disease, an aggressive form of pneumonia that could be potentially fatal. This bacterium got its name when a group of 182 people contracted the disease during an American Legion convention at the Bellevue-Stratford Hotel in Philadelphia in 1976. 29 of them died of the disease. Although this type of bacteria was certainly in existence before 1976, it had gone undiscovered. The sheer size of the outbreak in Philadelphia caused national awareness and scientific curiosity leading to its ultimate discovery. Legionella bacteria thrives in warm, moist places – like in the water running through the cooling towers of the Bellevue-Stratford's air-conditioning system, which is exactly what spread the disease throughout the hotel in 1976. The bacterium was named Legionella and the disease, legionellosis, after the first known victims.
The recent legionellosis outbreak the South Bronx is shining a national spotlight on the need for advanced technologies and systems to address legionella in water systems and keep our neighborhoods and the air we breathe safe.
Clarity Water Technologies is the pioneer of the 360 Degree Legionella Management Service – a complete program that not only assesses risk and develops a custom tailored management plan, but also includes a full service prevention and emergency legionella remediation component. 360 Degree Legionella Management Service takes in full consideration of the recent ASHRAE Standard 188 – Legionellosis: Risk Management for Building Water Systems.
Checklist for avoiding legionella in your cooling towers:
Contact your water treatment service provider to make sure that they are using the correct water treatment chemicals to treat your cooling tower.
A typical cooling tower water treatment program should consist of an oxidizing biocide, a non-oxidizing biocide and a corrosion inhibitor.
Chemicals needs to be adjusted based on temperature and water usage.
If you suspect that your cooling tower is dirty, contact a professional cooling tower cleaning company to conduct and assessment.
Have your tower professional cleaned and disinfected if it is called for.
OSHA recommends that cooling towers be cleaned at least twice per year.
Have your cooling towers periodically tested for legionella.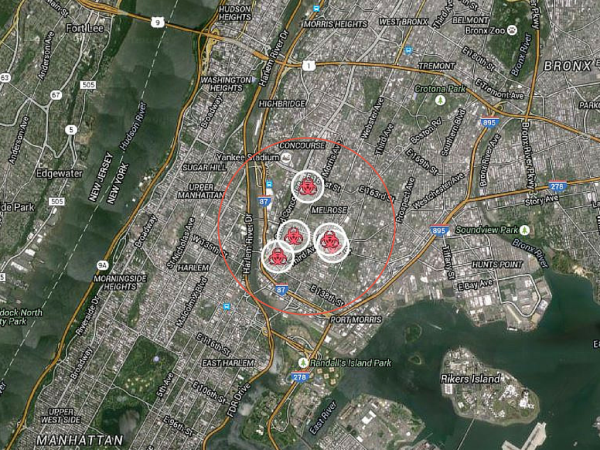 Facts about the South Bronx Legionellosis Outbreak:
22 buildings were visited by NYC Department of Health Officials in the cluster area and 17 were identified to have cooling towers

All 17 cooling towers were tested for legionella bacteria

5 of the cooling towers have tested positive

The 5 locations identified were:

Lincoln Hospital,

Concourse Plaza,

Opera House Hotel, a

Verizon Office Building and

Streamline Plastic Co.

Department of Health supervised remediation has been completed at all 5 locations
The DOH has required all sites to submit long-term plans describing how they will maintain the cooling towers to protect against any future growth of Legionella.
If you need any assistance with water treatment for legionella or cooling tower chemistry, or if you would like more information about our 360 Degree Legionella Management Service, please contact Clarity Water Technologies for a free assessment.